We headed down the highway to our nation's capital on Thursday to see the exhibition on that's on now at the National Art Gallery - Masterpieces from Paris, Van gogh, Gauguin, Cezanne and beyond. Post impressionism from the Musee D'orsay.
Rebekah was sort of excited because she knows a bit about Monet,Van Gogh and Cezanne, thanks to Charlotte Mason (as do I too actually, thanks Charlotte!)
In fact she brought along her Picnic with Monet board book and a Van Gogh art calendar that we got last year.
I just love how homeschooling Charlotte Mason style has enriched my life - yes, MY life!
How else would I have enjoyed this wonderful exhibition.
We chose to go during the week as the crowds thronging there from all around the country is pretty amazing apparently, none like this gallery has ever seen before!
Thankfully we only had to wait twenty minutes in the queue!
Was the long trip there and back in a day worth it? Absolutely! There's nothing quite like seeing all those amazing paintings in real life. I mean, there they were on the wall a foot away from us, we could easily reach out and touch them. They looked like they had been painted just yesterday not a hundred or so years ago! Stunning, amazing, beautiful, fantastic, those are some of the words that came out of our mouths that day!
The highlight for me was "Starry night over the Rhone" by Van Gogh.
To stand there and see the amazing detail up close in the painting and how he used his paint brush to capture the effects of the night sky and the reflection in the water below was just amazing!
The man was a genius!
Ron's favourite was Monet's Water Lily Pond: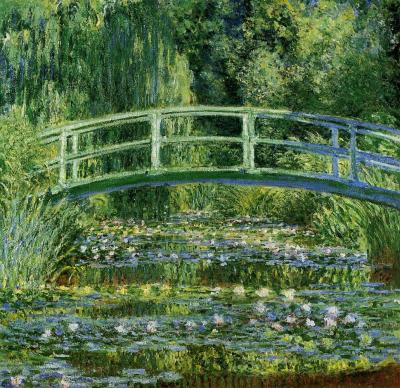 And to keep the kids happy they had a family activity room and one section of it set up like Van Gogh's "Bedroom at Arles".
Rebekah like most kids has always loved this one.
And here's Rebekah in the painting! :)
Pretty cool, don't you think?
Got any plans to go visit? You won't be disappointed!